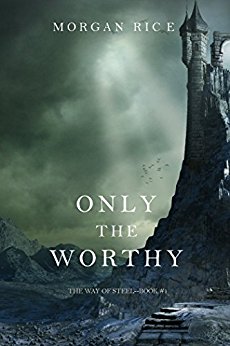 From Morgan Rice, #1 Bestselling author of OF CROWNS AND GLORY and of THE SORCERER'S RING, comes a riveting new fantasy series.
ONLY THE WORTHY (The Way of Steel—Book 1) tells the epic love story of Genevieve and Royce, each 17 and each coming of age in a world that wants to tear their tragic love apart. Royce is a peasant farmer who senses, with his special fighting skills, that he contains powers—and a destiny—unlike all the other boys in his village. Genevieve is set to be wed to him, her only true love—and yet on their wedding day she is stolen away by the royal court.
Banished from his homeland, Royce must face trials beyond which he can imagine as he is taught to survive the notorious Pits—the kingdom's brutal bloodsport. Genevieve, meanwhile, desperate for Royce's return, is forced to navigate the cruel and cunning world of the royal aristocracy, as she finds herself immersed in a world she despises.
Yet as Royce's powers become stronger and as he learns there is a secret behind the mysterious lineage of his father, he comes to realize that his destiny may be greater than he thought. He begins to wonder at the most terrifying question of all: who is he? And will he save his love before it is too late?
ONLY THE WORTHY weaves an epic tale of love and destiny, of tragedy and honor, of betrayal and heartbreak. It draws us into a fantasy world we will never forget, and appeals to all ages and genders. $0.99 on Kindle.