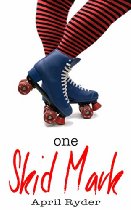 Hayley put her dreams on hold to save for her wedding and put her fiancee through law school. Her love and loyalty are all for naught when the man she loves leaves her for a job in another part of the country–and another woman!
Alcohol, hot men and girl power ensues and in the morning Hayley discovers her bestie has signed her up to try out for the local roller derby team–the Selby slammers. Hilarity and full on body blushing embarrassment ensues when she humiliates herself in front of the hot men from the inline hockey team in the next rink over.
Whether you enjoy her embarrassment or sympathise, you'll love Hayley and friends as she deals with what life gives her. Read on for all the juicy–not to mention hilarious–details! Free on Kindle.