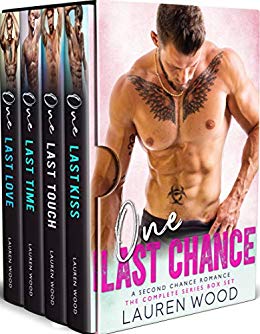 One Last Chance Series is here, all in one complete set!
One Last Kiss
"Mack, my first love ever, was a sexual mastermind.
He could do so many things to my body that I didn't know were possible.
I thought it would never end, this magical time, but it did.
Our love couldn't withstand reality.
Now he's back and his charm is being used on me.
He's trying to pull me back in."
One Last Touch
"One wild night in college was the best lover I'd ever had.
Cal made me scream till I was hoarse and begging for more at the same time.
Then it was over, and I never saw him again.
He was always the man in the back of my mind.
Cal was the measuring stick to the next one."
One Last Time
"Matt, my first true love, was more than just a boyfriend.
He was skilled in pleasure and he'd played my body like a fiddle.
It was perfect, and I was sure for a time that it would never end.
A love like ours would withstand the test of time.
But it hadn't and when he left school, I never saw him again.
Life brings us back together and I know this time, it's right."
One Last Love
"A girl could never forget her first love or her first night of bliss.
He leaves me lost, unsure what to do next.
For a while, I waited for him.
When he called me from jail, I knew that I wasn't the same girl.
I was with another man now, his friend. It just couldn't be.
With all that in mind, why was I so damn worried about it?" $0.99 on Kindle.