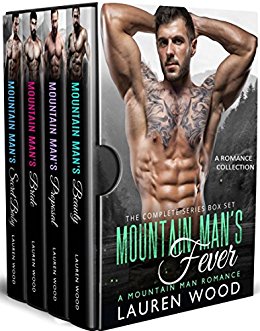 Mountain Man's Fever Series is here, all in one complete set!
Mountain Man's Beauty
"I had found her by chance, but needed her for keeps.
I didn't know what I was missing before I found Ayla.
She was a stranger that made my heart race and my body hot.
All I had to do was get my lips on hers and give her the temptation."
Mountain Man's Proposal
"Her smile was innocent, but her body was so damn hot.
She got a job and I got a new outlook on life.
She brought out the side of me that I didn't even know was alive.
With her, I started to think about the future."
Mountain Man's Bride
"He was back and everything was changing.
He wanted something from me, more than I first thought.
It was hard to think when he was near and now Chris was too close.
His lips were so demanding and I yearned for the power that he possessed over my body."
Mountain Man's Secret Baby
"Just like the tall peaks of Alaska…
Ethan is untamed and rough around the edges.
No one knows why he's here in Nome,
But something draws me to his stormy eyes…
And I lose control of everything." $0.99 on Kindle.