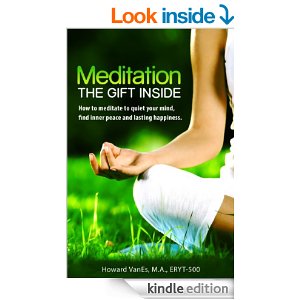 For thousands of years people of faith, ascetics as well as everyday people have practiced meditation to quiet their minds, find inner peace and connect with their spirit. 

Whether you are looking for a book on meditation for beginners or you are an experienced meditator wanting to renew your practice you'll find "Meditation: The Gift Inside" connects you to the heart of the practice. 

This meditation book covers:

•How to meditate like a yogi: experience the same meditation techniques that the deepest meditators use.

•Uncover the secrets to quiet your mind; have inner peace even when your outer world may be chaotic.

•Powerful methods to dramatically deepen your meditation.

• How to easily make meditation a part of your daily life and eliminate challenges that may prevent you from practicing regularly.

•Discover how modern scientific research is confirming what the ancient yogis knew about the extraordinary benefits of meditation including: sleeping better, reducing pain, improving mood, extending life, etc.

•Explore the connection between yoga and meditation.