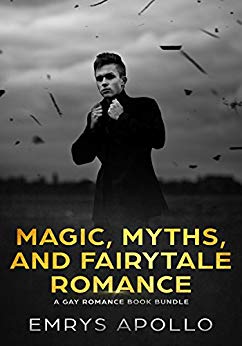 Five fantastical romance books, all together in one. Whether you're looking for wizards, enchanted castles, or mysterious forests full of wonder, it's all here.
The Wizard Merlin: A young mage and a band of knights set out on a journey of destiny that will surely end in death. But when a mysterious stranger falls into their path, Merlin is torn between love and fate.
Through The Woods: In an ancient forest lies many secrets, and Eli is shocked to discover one that is close to his heart. But as wondrous as this magical world may be, it's also full of dangers who want nothing more than to harm him.
Crimson White: Prince Martin learns his childhood friend, Henry, is captive of the evil queen, who desires the boy's innocence for her own nefarious schemes. Martin is determined to protect Henry, but the queen's magic is nothing to trifle with.
Into The Winter: Boris lives a fairly normal life with his boyfriend Charlie, that is until an ancient snow queen captures Charlie and runs off with him. Desperate to find Charlie before he turns to ice, Boris falls into a magical world where the seasons are people and nothing is as it seems.
Whisked Away: Having ignored the townspeople's warnings of a kidnapper prowling in the woods, Felix scoffs at their superstition and ventures out into the cold, finding himself promptly whisked away to a mysterious castle. The inhabitants seem to be limited to a horde of animated household objects and a rather charming if stubborn beast by the name of Theodore, who is in search of his true love. Although Felix is certain that his mind has given up on him, he agrees to remain in the castle until he can devise a plan of escape. But as time passes and he learns more about Theodore's curse, he's not so sure he wants to leave after all…$0.99 on Kindle.
[shareaholic app="share_buttons" id="4690042"]