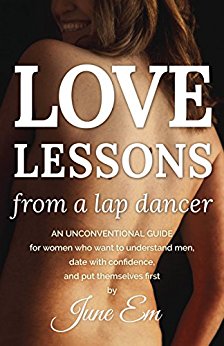 Let go of loneliness and set the stage for the love life of your dreams.
In Love Lessons from a Lap Dancer, ex-stripper June Em takes you backstage to reveal step-by-step how she went from lonely nights, lame dates and losers to authentic connections with desirable men, dates like you see in the movies and, ultimately, the relationship of her dreams.
Peek into the unguarded motivations of thousands of men (hint: they don't just go to strip clubs for the nudity), gain wisdom earned from over 100 dates (so you'll need far fewer), and discover through hilarious stories, practical exercises and hard-won tips how to be more confident, playful and fearless, not only with men, but with life itself.
Whether you want to get comfortable dating or break out of your dating comfort zone, Love Lessons from a Lap Dancer shows you how to get clear on what you want, connect with who you truly are, and draw your ideal partner to you: all without dumbing yourself down, playing games or being anyone but your authentic self.
Because destiny is a great name for a stripper but a crappy way to make decisions about your love life. $0.99 on Kindle.