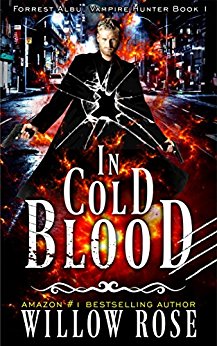 A boarding school steeped in tradition.
A killer cloaked in darkness.
A campus soaked in blood.
For Detective Forrest, evil has a distinctive smell. He's spent centuries concealing his fangs and exposing those of his kind who surrender to their thirst for blood. When a dead girl's severed organs are found strung from a tree, Forrest fears that French Revolution-era savagery is making a comeback…
Sara Damsgaard is in debt, newly widowed, and desperate to provide for her young sister. Her new position as a boarding school headmistress seems like the perfect fresh start… if it weren't for the brutal attacks sweeping through the student body.
To save the school, Forrest and Damsgaard must team up and catch the killer. When the trail of clues takes an unexpected turn, they come face-to-face with a sinister school tradition with the power to call forth a new reign of terror…
In Cold Blood is the harrowing first book in the Agent Forrest supernatural horror series. If you like disturbing mysteries, terrifying vampires, and hardboiled detectives, then you'll love Willow Rose's bloody whodunit. $2.99 on Kindle.