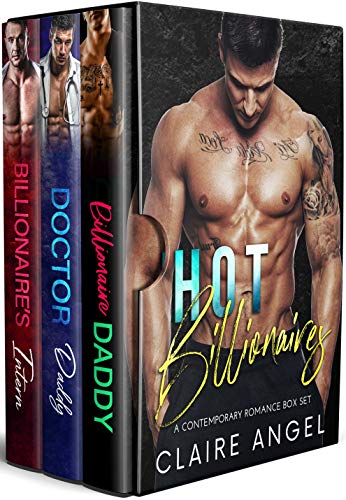 Collection of Steamy Romance Stories.
Fall in love with the Hot Bosses…
Book 1: Billionaire Daddy: A Single Dad Romance
We never spoke to each other even we were living in the same house and he was my f*cking boss.
Helping him while he was drunk that night was a mistake.
I fought it but I gave into the attraction.
His physique was hungry for me.
His body and tone of voice were addictive.
I was hooked. One touch and I was his.
Will he be able to understand unspoken words?
Now will he forget everything about that night?
Could I walk away from this stunning man?
Book 2: Doctor Daddy: A Billionaire and a Nanny Romance
My Hot Baby Daddy!
He is a Billionaire and my Doctor Boss!
I could feel him caressing each part of my body with his eyes and those blue eyes followed me all the time even when he was not around.
His smooth, dark hair had felt like silk between my fingers.
That spicy cologne transported me deeper into his arms.
I can't stop fantasizing him even in front of his daughter.
But I was not going let him know what he does to me.
A deep passionate kiss and it felt like the world has melted around me.
He kept apologizing and kissing me again.
I felt safe in his arms and wanted to stay in his embrace for the rest of my life.
But… his ex-wife was back out of the blue.
My thoughts were foggy and nothing made any sense.
And I always knew that it was a bad idea to fall for my boss…
Book 3: Billionaire's Intern: A Billionaire office Romance
I never imagined that I would be this girl, drooling over my boss. But I was.
I wanted that devilishly-hot man standing at the podium hiding his ripped body underneath his suit…
It shouldn't have been hard to follow.
It was all so simple, my rules…until I met Richard Grant in person.
I didn't need an award, but an internship with Richard Grant.
He was magic. His amazing brown eyes pierced my soul with each stare.
His hands were seemingly everywhere and he pressed his chiseled body against me.
His aroma took over my senses and I gave into the attraction.
It wasn't supposed to be like this. I was trapped by the way he looked at me every time.
Whole world knew his reputation. And just like a love-struck teenager I ignored this all like I never knew anything.
He was a well-known notorious womanizer.
I wanted him so bad until I had gotten with him under false pretense and I wasn't the only one… $0.99 on Kindle