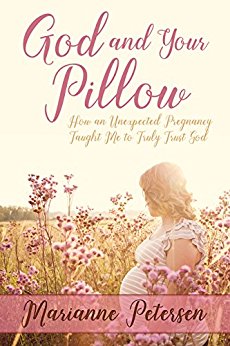 God and Your Pillow shares Marianne dealing with an unplanned pregnancy, helping others seek wisdom, guidance, encouragement, and inspiration.
At nineteen, she felt God guiding her on an exciting journey. But an unplanned pregnancy interrupted her plans, surrounding her with uncertainty as an illegal secret brought her to the peak of her despair. God, however, lifted her up, holding her throughout the pregnancy and unforgettable delivery, to then gently put her down into the new life He had planned for her.
Marianne uses honesty and humor to help share how God and her pillow, the only two that knew all her thoughts, helped her endure the trial.
Her book is also perfect for those who just need a good ol' fashion love story. $0.99 on Kindle.