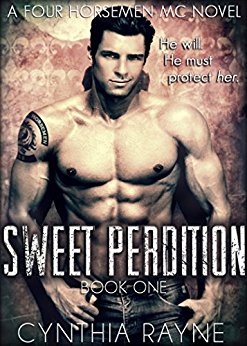 His devil-may-care attitude made him an intoxicating mixture of dangerous and exciting.
Ryker could be the poster boy for poor life decisions.
Elizabeth
Elizabeth Williams, single small-town librarian, knows she doesn't belong in the notorious biker bar, Perdition. But after watching her best friend marry her ex-boyfriend, she's ready to drink her cares away. And break out of the good girl mold she's been stuck in most of her life.
Ryker
Ryker, member of the Four Horsemen MC, can't take his eyes off the gorgeous, curvy redhead at his club's bar. He suddenly has a taste for good girls … and he's going to get him some. Just for one night, of course, because Ryker doesn't do relationships. Ever.
But when Elizabeth's ex begins to stalk her, Ryker realizes he'll do anything to keep her safe. Free on Kindle.