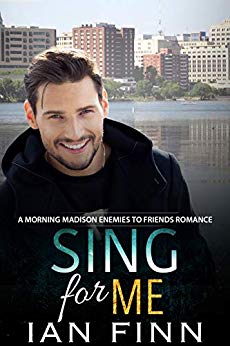 Elijah
As head of King Broadcasting Corporation, the largest in the country, I have everything I could ever want… except for Alexander Tucker. I've known Alex since middle school choir when I used to stare at him from afar, but he never picked up on my hints.
Now, he owns Tucker Broadcasting Corporation, my biggest rival. Technically, we're enemies, but I still stare at him from afar, since I can see into his office windows with my binoculars. That's all I'll ever get to do, though, because it's clear he's still not interested in anything other than trying to beat me in our field.
That is until someone shows up with a whole new kind of game for us to compete in, and I can't resist the opportunity to go head to head with the object of my unrequited love.
Alex
It was like any other day, in which I'm being pitched a show to host on my network. And it seems just like any other show until the guys pitching it say it's being seriously considered by Elijah King, head of my rival broadcasting corporation.
We've competed against each other since way back in our school chorus days, and I've held any other kinds of feelings for him at bay. He was better than me at singing, and that bothered me, yet intrigued me. Now Elijah and I are to compete against each other at singing to see which one of our networks can host the show. That's an offer I can't refuse.
But am I going to be able to refuse my burning desires for my number one rival?
Sing for Me is a standalone male/male romance novella, a prequel in the Morning Madison series. It can be read on its own, but should definitely be read with a tall glass of water nearby due to all the hot man on man action contained within it. This enemies to lovers romance has no cheating and no cliffhangers. But it does have a very happy ever after, humor, tons of sass, and musical show tune singing that would give any proper Broadway show a run for its money. Free on Kindle.
[shareaholic app="share_buttons" id="4690042"]