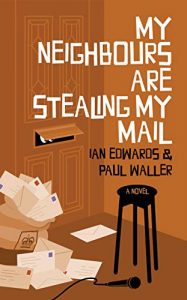 Alan Rose has quit his job and, much to his disappointment, moved in with his girlfriend, Rosie. But if only it was. Rosy, that is. You see, he's not getting any mail. Convinced his neighbours are stealing it, he investigates. Only to find evidence of…witchcraft.
Meanwhile the Merton Palace Theatre is being renovated. As the building work continues, strange noises can be heard from the cellar. What have the builders unearthed?
Frankie Fortune is having strange dreams about the Merton Palace Theatre. Could it simply be flashbacks to when he died there in 1982, or is it something more sinister?
The crew of the cable TV show Scared Stiff are sent in to broadcast the strange happenings live on air.
What could possibly go wrong? Free on Kindle.