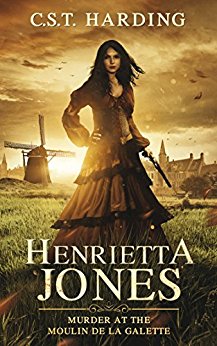 Henrietta Jones, known as "Harry' is outrageous and scheming, and charms everyone she meets, as she turns the world all around into chaos in 1870s Paris.
She becomes a successful criminal, and runs away to Paris, with Joules chasing to try and protect her.
After running amok in London and Paris, she plans a festival to save the Moulin de La Galette from development and starts causing continual mayhem. Along the way, she gives Paris back its smile, saves Europe from global conflict, and buys the Suez Canal.
But somehow she changes the world for the better. Everyone is thoroughly managed, with help from the long-suffering Joules, the wicked sexy, pixie-like Apoline, and the man-hating Headmistress Miss Mactavish.
Harry could almost fall in love with stupid Joules if he wasn't so slow. Finally, she is forced to kidnap him. Free on Kindle.