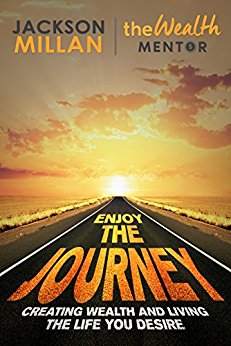 Enjoy The Journey aims to help everyday people achieve extraordinary outcomes through learning the language of money. We believe that everyone deserves access to the right tools that will set them on the path towards financial freedom.
Written by Jackson Millan- The Wealth Mentor, he has condensed all of his knowledge gained over the last 10 years in helping over 1,000 clients into a simple, sustainable and scalable framework to support you on your wealth journey.
Money is complex and many are misguided in how to use it to achieve their lifestyle goals which leads many people down the wrong path. Enjoy The Journey aims to help you get clear on what you want in life, define the destination, create a financial roadmap and stick the course using strategies that have allowed The Wealth Mentor to help his clients build over $1 billion in wealth.
If you want a straightforward guide that simplifies the jargon, demystifies the world of wealth and gives you tips that you can start implementing now, look no further.
Enjoy The Journey and The Wealth Mentor aims to empower more people to take control of their finances and become money masters. We are ready, are you? Free on Kindle.