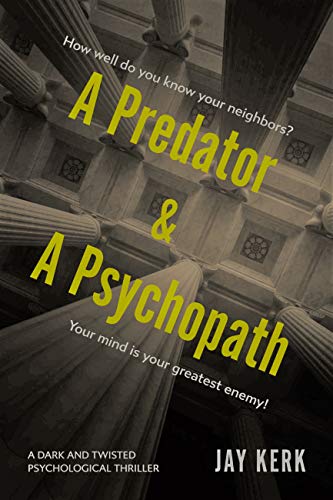 After Jason is committed to a mental institution, he begins to uncover things he never knew before or things his mind shut out to protect him. Under the care of the facility's doctors, he finds himself questioning what's real and what's not. What is the truth? What happened to him? Is his mind playing tricks on him?
Wait a minute, what happened to his wife, Lisa? Where is Lea? Why can't he remember what happened?
Meanwhile, Jerry is dangerous and unpredictable. He envisions a world where boundaries are broken down and he is free to enforce his narcissistic belief that he has a divine mission. Technology allows him the freedom to use his position of trust to play with people's lives.
An explosive ending that is anything but expected, forgive yourself for shuddering throughout and after you close the book
Drawing inspiration from real cases, and with well-researched, realistic characters, A Predator and A Psychopath is not for the soft-hearted. Free on Kindle.

[shareaholic app="share_buttons" id="4690042"]