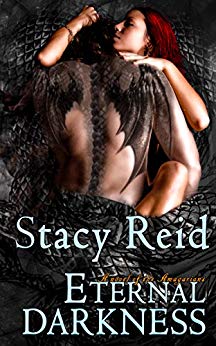 The darkest taste of temptation…
Fleeing from a blood oath made against her will to a man known in the seven realms as the tyrant king, the last place Princess Saieke Shyokara, expected to be trapped was in the Darkage, the land of the feared shadowed demons. Even worse, she's stuck with Archduke Drac EL Kyn, a Darkan–a creature of darkness and sensuality, who entices her with passion, intrigue, and danger. The only thing she needs from the fierce warrior is his body to further her own plot…certainly not the dangerously irresistibly desire he rouses.
As one of the deadliest shadow assassins of his realm, Drac must use his skills to unearth the factions who murdered his king. Drawn by an irresistible hunger to the princess, he struggles to maintain distance from a woman who is utterly forbidden to those of his race. Yet, as she navigates the treacherous schemes and traps laid for her by the kingdoms of the seven realms, Drac must decide if he will claim Saieke as his mate, or will he relinquish this woman, who stirs in him the darkest hunger he's ever known, to avoid embroiling his kingdom in war. $0.99 on Kindle.