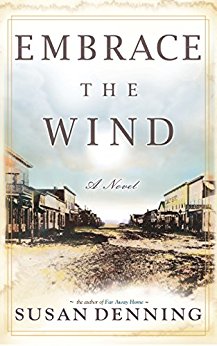 What is the cost of living life on your own terms? For a young woman on the American Frontier, the price can be high.
Aislynn Maher trusted the wrong man. To conceal her disgrace, she abandons her job, her home, her family and friends. She turns to the raw, contentious US marshal of the Wyoming Territory, Orrin Sage, who is hiding a guilty secret of his own.
Setting out alone, Aislynn brings her optimism and determination to Cheyenne. But in this rough town, with its prejudice, violence and lawlessness, it's not just difficult to do what you believe is right – it's potentially deadly.
This unlikely love story details real triumphs and tragedies from frontier women's letters, diaries and newspapers of the day, and places Aislynn in the center of their history. Embrace the Wind illuminates the story of the women who changed the West and helped forge the freedoms we enjoy today. $0.99 on Kindle.