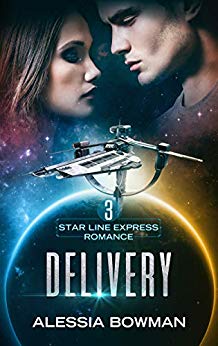 Desire. Passion. Intrigue.
There's more than just cargo aboard the Star Line Express.
Flight controller Niya Redmor has just one desire: make sure her son gets the home he deserves.
Daredevil pilot Joston Lynar has just one desire: get back in the pilot's seat and do what he was born to do.
Joston's showoff landing wows all the flight controllers on Engra, and Niya Redmor is swept off her feet. The two can't deny their fiery attraction. But Niya's plans for her son and Joston's carefree lifestyle are a poor fit.
Now, with the burgeoning revolution on Engra, even if Niya and Joston wanted to, the couple might never be able to make a go of it. And as the conflict escalates, it threatens to destroy not just Niya and Joston's fragile relationship, but all of Engra as well.
Aboard the Star Line Express, there's no cheating, no cliffhangers, and there's always a Happily Ever After. $0.99 on Kindle.