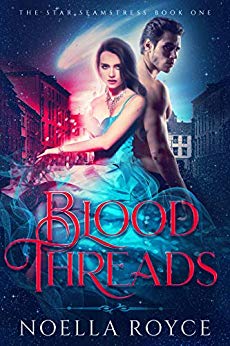 I'm a former cosplayer and personal assistant with no fighting skills to speak of, wearing a ball gown for a battle with a bunch of powerful mages who specialize in raising the undead. 

My allies are vampires, witches, and shifters, and I'm hoping the lone wolf bloodsucker I've fallen for shows up to save the day.
How the hell did I get here?
I've just moved to a northeastern college town looking to escape my explosive past in LA. I just want to be normal and anonymous.
But before I can even settle in I'm witnessing a creepy kidnapping by hooded figures and clashing with this hot dude, Adin, who sometimes wears Victorian clothing without irony. Adin scares the bejeesus out of everyone but keeps showing up in my general vicinity, mostly at night. Yes, it's great when he saves my butt from more of those hooded weirdos, and he's stupidly attractive and kissable, but I'd really like to know what's going on.
And when my coworkers talk about 'daywalkers', 'shifters', and something about 'magic sewing' I just think they're nuts. Except, wait, I seem to have the ability to create sentient clothes that repels magic. Everyone wants a piece of me, and I don't even know what I am.
Why did I leave my lucrative cosplay and social media life behind? I can't even get a cup of tea in this place without getting threatened by witches.
Maybe I should have stayed in LA. At this rate, Maywen's going to kill me. $0.99 on Kindle.