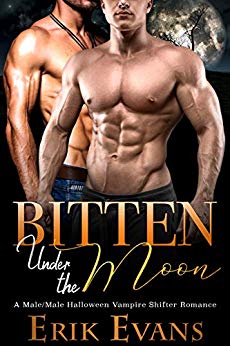 This beautiful young man holds the reincarnated soul of my one true love,
I must dominate him and make him mine.
He's a young playwright, who unknowingly writes the story of our past,
I lost him then to violence and hate,
Now that I've found him again I will never let him go,
Even though he resists me.
I bewitch him, work magic on him and make him want me, need me,
And I will have him remember the vampire he once was.
He doesn't recognize me now, but he will,
This Halloween, under the light of the full harvest moon,
I'll turn my beloved, so we can hunt under the moonlight together.
Or will he discover my magic and drive me away before I have the chance to make him eternally mine? $0.99 on Kindle.