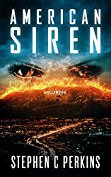 She can make you a star.
But you must first sell her your soul.
For she is the world's secret ruler.
Both in this world…
And the one we can't see!
The music industry is a veil of secrets. What if the man now calling himself Paul McCartney were an impostor?
William Shears Campbell is an MI6 agent with not only a license to kill, but dark secrets and an even darker past. Now that a part of that dark past has returned to haunt him, he becomes involved in a massive conspiracy. And this time, he might not be able to shoot his way out of trouble!
When a powerful Hollywood television executive hatches a sinister plot to improve the ratings of a popular reality television talent show, there may be more at stake than just ratings! $2.99 on Kindle.