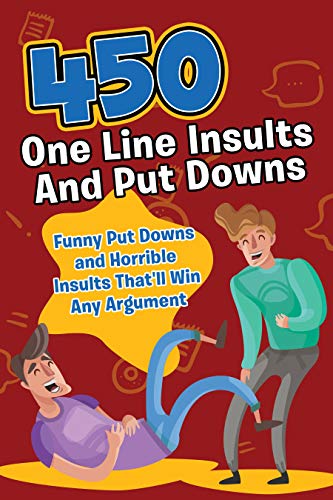 If you want to verbally destroy your friends and family with hilarious comebacks, without sounding like a child, then read on…
Looking to zing your friends, family, and co-workers with laughable one-liners?
Want a quick and simple insult that is perfect for every situation?
In need of a hilarious gag gift that'll leave your recipient laughing out loud?
If so, 450 One Line Insults and Put Downs is for you, because it was written by professional comedians that specialize in raunchy retorts, crafted comebacks, and ouch-worthy insults.
Imagine having hundreds of hilarious responses at your disposal next time someone, friend or foe, tries to pick you fight with you!
Why This Book Is Different:
This book is different because it is jam-packed with content that is ACTUALLY funny for adults.
You'll Soon Discover:
Hundreds of jaw-dropping and hilarious insults that will leave your opponent speechless.
The perfect one-line comeback for the friend that just loves giving you the finger.
Why this book is the perfect gag gift for someone that could use a helping hand in an argument.
What your personality, a busted chapstick, and beached whale all have in common.
A few golden classics involving your mother and all the terrible things about her.
And so much more! $0.99 on Kindle.