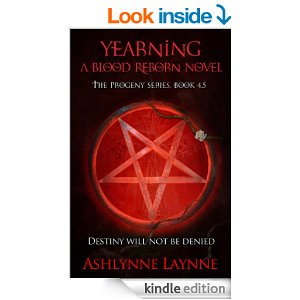 WARNING: OVER 18 ONLY. This series contains adult sensuality, language, and themes. 

From award winning author, Ashlynne Laynne, comes the next installment in the progeny series. It's time to get up close and personal with Katy and Gabe.

Yearning: A Blood Reborn Novel 
"Destiny will not be denied."

Like their siblings, Katy McCutchin—a powerful double Wiccan with otherworldly powers—and Gabe Rousseau—a full-blooded vampire—are destined. They've conquered many obstacles to be together. With their relationship at a crossroads and chaos erupting all around them, it's time to take the steps that will finally link them for eternity.