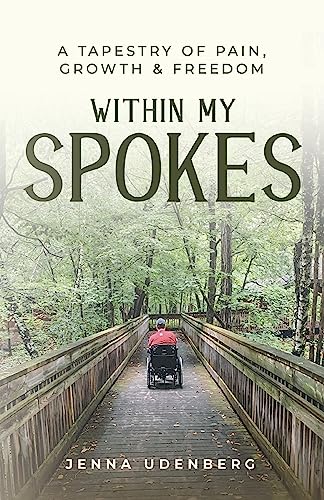 Life is always beautiful no matter what it looks like because of the tapestry of relationships and people.
Make it colorful and unique.
Within My Spokes is a collection of Jenna Udenberg's life stories and the relationships that create her tapestry. From her childhood diagnosis of Juvenile Arthritis at age 7, Jenna fought through long journeys of medical battles, broken systems, discrimination & ignorance. Jenna is a 2020 Bush Fellow and is now a disability advocate, activist, and accessibility educator. Readers have laughed and cried as they dug deeper into her shared life stories. This is a coming of age book about finding oneself, one's purpose and worth sometimes through the most unlikely of relationships and circumstances.
Within these stories, you will be taken on a journey of:
Persevering & thriving through life's unexpected adventures
Timely friendships creating safe, inclusive, and healthy spaces
Healing (physical, spiritual, emotional) through the hurt of one's past
Faith
Though our stories may be different, you may relate to experiences in this book of pain, growth & freedom that could help you on your journey.
Jenna Udenberg grew up on the beautiful North Shore of Lake Superior. She is a disability advocate and accessibility educator. Jenna's newspaper column, Local View from 4' 2", can be found in the Lake County Press and she loves working with others including her non-profit, Above & Beyond With U. $0.99 on Kindle.