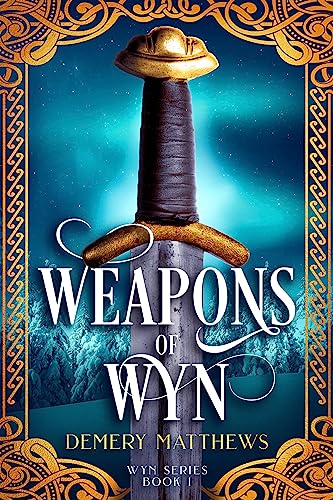 A chance at love blooms when two worlds collide.
860 AD — A captive sixteen-year-old Ængle-Briton woman on a Viking ship somewhere in the North Sea. She is one of the only survivors of a brutal raid upon her English village and is haunted by the faces of her loved ones. The reason for their deaths is Eirikr, the commander of the ship.
A Viking warrior of twenty-five years, Eirikr is strong, reliable, and a fierce fighter. He also possesses a thoughtful and caring nature the young captive could never have imagined.
Determined to survive her new life amongst the enemy, she hopes to return home. She doesn't expect to develop feelings for Eirikr, who respects and admires her strong will. Can she ever be with a man who has caused so much pain and death?
Unlike many Viking Age novels that center on warriors and battle thirst, Weapons of Wyn is the story of a woman's journey during this perilous time. If you enjoy historical fiction and slow-burn romances, you'll love Weapons of Wyn. $0.99 on Kindle.