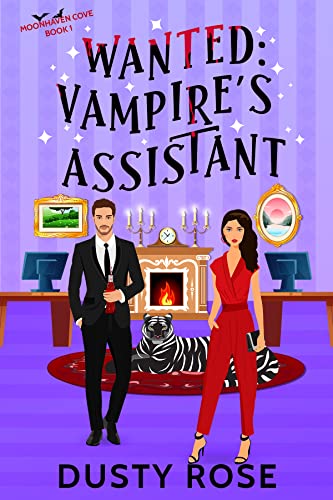 Ever had life kick you in the teeth after it shoved you down the stairs?
Yeah, that's how my day was heading.
And then I saw an ad in the paper that changed my life—Wanted: Vampire's Assistant. Qualifications must include: loyalty, sturdiness, flexibility, dependability, fearlessness, intelligence, and please no applicants that are prone to temper or fits of terror.
Normally, I'd laugh at the absurd ad, but I emailed the prankster—Draven Leto, instead. People need jobs, Mr. Leto. Prank ads are not appreciated.
I wasn't expecting to get a reply.
And I certainly wasn't expecting for the ad to be invisible to everyone else on my floor.
Then a self-proclaimed vampire with a voice that could melt honey called and invited me to interview for the position.
And I accepted.
Like I said, life changing.
Wanted: Vampire's Assistant is part of my new Moonhaven Cove series. Each book in the series builds off the previous books, but still stands on its own. If you're looking for clean paranormal romance with swoony kisses, snappy dialogue, funny and heartwarming characters, and plenty of suspense and action, you've found the right place. Welcome to Moonhaven Cove. $0.99 on Kindle