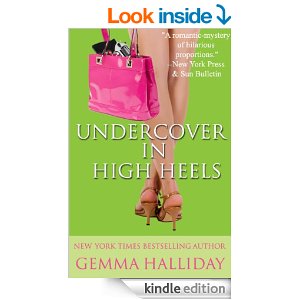 New York Times, USA Today, and #1 Kindle Bestselling series!
"Gemma Halliday's Maddie Springer is like the west coast version of Janet Evanovich's Stephanie Plum – only more stylish!"
– LG Book Club
Secret affairs, hunky gardeners, and housewives desperate enough to bare it all… welcome to Magnolia Lane, TV's hottest new prime time show. A place where L.A. shoe designer Maddie Springer should be in fashion heaven. That is until the body of a rising young starlet is found dead on the show's set. Now it's up to Maddie to sift through a leading lady with a secret, an actor on the verge of a nervous breakdown, a sexy cyber scandal, and one tabloid reporter who'll stop at nothing to get the story of the century. Not to mention Maddie's hot-cold relationship with the case's familiar lead detective, Jack Ramirez. In a world where secrets, lies, and deception can earn you an Oscar, Maddie plays the role of a lifetime to catch Hollywood's hottest killer. But if she doesn't watch her step, Maddie's fifteen minutes of fame just may be her last.