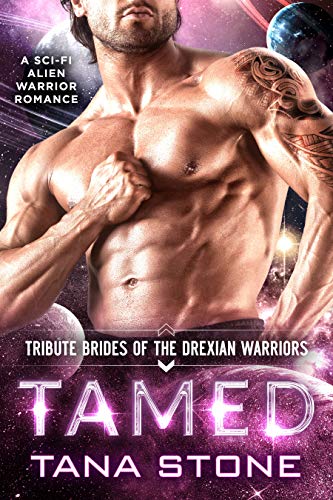 Mandy was having a seriously crappy day.
And that was before she was snatched from Earth by bad-ass alien warriors in need of brides.
Taken to a high-tech space station designed to entice human women, LA socialite Mandy is anything but impressed. She's not falling for their holographic fantasy suites, their promise of a dream wedding, or their gorgeous, brawny warriors. Especially not the abrasive, arrogant guy she's been matched with.
The last thing Dorn wants is a mate. He craves battle and discipline, not a weak female.
As a Drexian commander tasked with defending his people from a menacing enemy, he has no desire for a frail human mate. Even if they are his species' last chance for survival. Especially not one as spoiled as her.
But, unfortunately for Dorn, he has no choice. Not if he wants to get back to his battleship and save both Earth and the Drexian race from extinction.
This standalone action romance novel features steamy scenes on a holographic fantasy space station, a high-strung alien wedding planner with a penchant for platform shoes, deadly aliens hell-bent on invading Earth, and smoking-hot Drexian warriors with extra erogenous zones who are equally determined to protect Earth.
If you like hot alien warriors, spunky Earth women, steamy romance with a happily ever after, and some laughs, you'll love Tamed, the first book in Tana Stone's sci-fi romance Tribute Brides of the Drexian Warriors series. $0.99 cents on Kindle.