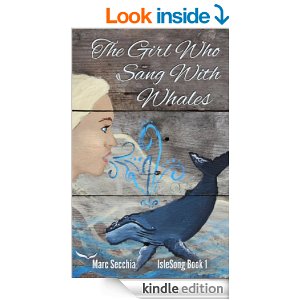 Imagine an island world where the seas seethe with dangerous creatures, where those rare men and women called Bard-Navigators have learned to sing Whales to protect their ships. Only on the wings of Bardsong can ships avoid the Sea-Dragons and travel the great gulf between the Atolls scattered across the World-Sea. 

I sang to the Sea; She sang back to me, 
Tales and travails wreathed in mystery. 
Zhialeiana has an astonishing gift of song. She can sing the unique songs of the mighty and magical creatures of the World-Sea. She can touch their souls. When her gift is discovered at her mother's funeral, the current of her life begins to sweep her to a future that she could never have imagined. She must navigate both opportunity and danger, and lay her life on the line for the Whales she loves.