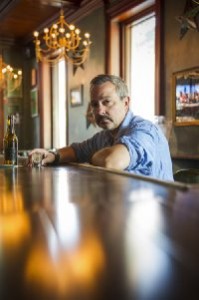 What will readers love about your character Dick Moonlight?
The fact that he can die at any moment due to a tiny piece of .22 caliber hollow-point bullet lodged inside his brain directly up against his cerebral cortex offers him an odd perspective on life. While he often does the wrong thing or, due to his condition, makes the wrong decision, he is dedicated to finding out the truth behind any case he becomes involved in. He also wants to do what's right at any cost even if that means breaking the law. You see the paradox there. He is also loyal to a fault. He would follow his Lola to the ends of the earth, even after she has fallen in love with someone else. I guess there's a little bit of Moonlight in all of us. Only in him, things are more exaggerated and transparent.
What do you hope they will take away after reading Blue Moonlight?
That even the seemingly smallest of mistakes can snowball into the worse shit storms possible. And, yes, in that very, very corny way: true love never dies.
What inspired you to make the transition from journalism to fiction writing?
When I started out, I modeled myself on the old guard writers like Hemingway and Martha Gellhorn. They both started out as newspaper writers (Gellhorn and I started at the same paper, The Times Union in Albany) and eventually became freelance journalists which led to a career in fiction. I just figured if it worked for them it could work for me.
Blue Moonlight takes the reader to Florence Italy. Have you been there yourself? If so, what was it about Italy that inspired you to send Dick Moonlight there?
I spend about three months a year in Florence, writing, eating, drinking, traveling, and just generally messing around with the friends I've made there over the years. Jim Harrison likes to escape to his cabin in the Michigan wilderness in order to write. Hemingway used to rent one hotel room in Bimini for writing in solitude and another where his mail would be forwarded. I've somehow come to the conclusion that I need Italy in my life in order to be creative and to be somewhat alone with my crazy thoughts.
If you could write yourself into Blue Moonlight for a walk on scene, who would you be, and what would you say in that scene?
I'd be sitting at a café table inside the Pizza del Duomo sipping a glass of vino russo and reading the International Herald Tribune. I'd be dressed in black pants, black leather coat and sunglasses. When a panting Moonlight races up to my table while being chased by gun-toting Russian thugs, his eyes looking lost and forlorn like he hasn't a clue where to hide, I would casually tell him there's a secret door located on the back side of the cathedral that leads to an old tunnel that ends somewhere in the city center. Then I'd hand him the key to the door. "Go now," I would insist. "Go. Now. Live."
"Gritty, fast-paced, lyrical and haunting." –Harlan Coben, bestselling author of Six Years
"Tough, stylish, heartbreaking." –Don Winslow, bestselling author of Savages
"Non-stop action." –I Love a Mystery
"Vincent Zandri nails reader's attention." –Boston Herald
"(Zandri) demonstrates an uncanny knack for exposition, introducing new characters and narrative possibilities with the confidence of an old pro…Zandri does a superb job interlocking puzzle pieces." –The San Diego Union-Tribune
Vincent Zandri is the NEW YORK TIMES and USA TODAY bestselling author of more than 16 novels including THE INNOCENT, GODCHILD, THE REMAINS, MOONLIGHT RISES, and the forthcoming, THE BREAKUP
For more go to WWW.VINCENTZANDRI.COM