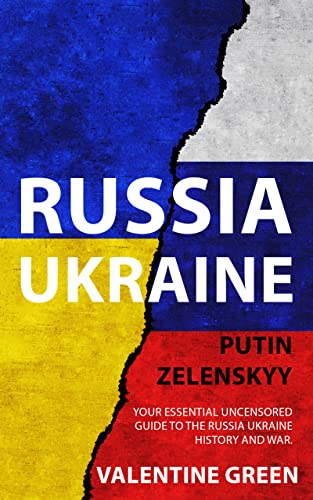 In this comprehensive all-in-one guide, including references from 27 experts, academics and professionals; You will gain an in-depth understanding of the Russia Ukraine history and war.
Quickly grasp key analysis of the background debate and context behind the conflict, so you can confidently explain what started this war.
Here's what you'll discover in Russia Ukraine, Putin Zelenskyy, Your Essential Uncensored Guide To The Russia – Ukraine History And War:
Learn The Historical Relationship Between Russia and Ukraine.
-The Soviet Union
-Post-Soviet Ukraine
-Relations Between Russia and Ukraine After The Fall of The USSR
Gain intricate Background Details Of Earlier Russo-Ukrainian Conflicts.
-The Ukrainian Revolution of Dignity
-The Russian Annexation of Crimea
-The War in Donbas
Get Expert Analysis On The Critical Factors That Led To The Escalation Of This War.
-Russian Movements Close To Ukraine
-Pro-Russian Movements Within Ukraine
-Putin Against The Growing Influence of NATO
Know The Key Steps And Developments Of The Invasion.
-Russia Attacks
-Ukraine Fights Back
-The World Responds
Understand The Important Role of Modern Media and Propaganda.
-War in the Age of Social Media
-Russia's Massive Disinformation and Propaganda Machinery
-How Traditional and Digital Media is Shaping Public Perception of the Conflict
Discover The Worldwide Economic Impacts Of This Crisis.
-Global Economic Upheavals
-World Community Places Sanctions on Russia
-What the Short-Term and Long-Term Effects Will Be
As a bonus, this book will also cover:
The Challenges Of The Current Situation.
-The Human Toll
-Will China Side With Russia?
-How The Conflict Can Be Resolved, At Least Temporarily
Would You Like To Know More?
This is the only book you'll ever need if you want to firmly grasp the essentials of the Russia Ukraine history and war.