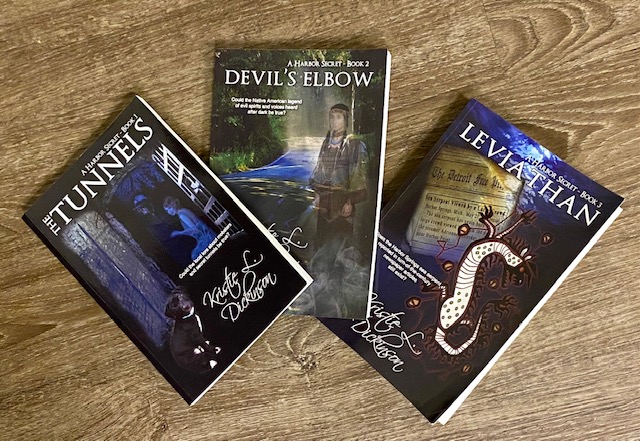 Harbor Springs, a tiny resort town in northern Michigan that serves as the summertime playground of the wealthy, famous, and sometimes infamous.
Starting a new business with her aunt, the fiercely independent Kylie Branson moves to town and unwittingly purchases for her home what had once been the summer stomping grounds of the notorious Purple Gang of Detroit. Soon she finds herself getting into predicament after predicament. Fortunately for Kylie, local fire chief Jason Lange always seems to show up at the right moment to rescue her. Unfortunately for Chief Lange, Kylie isn't the kind of girl that believes in being rescued.
When Kylie's puppy gets stranded in an old air shaft in the woods, Kylie soon discovers that she may have gotten more than she bargained for when she purchased her home. Could the local lore about what was once Club Manitou be true? Kylie won't rest until she has learned the whole story.
As the series continues, Kylie and the present-day characters go on to discover other mysteries in Harbor Springs, Michigan that include Devil's Elbow and Leviathan.
All the books in this series are based on true historic events and locations in Harbor Springs, Michigan. Yes, there really is a house at the edge of town that was once a speakeasy for The Purple Gang of Detroit and, yes, there really are tunnels running through the forest surrounding the house. Yes, Devil's Elbow is rumored to be one of the most haunted places in Michigan and, yes, there really is a sign at the sharp curve in the road warning of an evil spirit that comes out at night, when voices and drum beats can be heard. Finally, yes, at the turn of the century, there really was a series of newspaper articles published reporting sea serpent sightings not by just a few people but by steamships full of people entering the harbor.
I did a lot of research with the local historian to write this series and used the present-day characters to pull the past into the present.