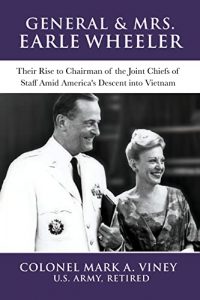 General & Mrs. Earle Wheeler takes readers inside the White House, the Pentagon, and the household of the most senior officer of the U.S. Armed Forces.
Since the position of Chairman of the Joint Chiefs of Staff was established in 1949, only 20 officers have attained this pinnacle of the U.S. military profession. Each of their stories is remarkable, yet the biography of perhaps the most distinguished member of this small, elite fraternity has only now been written.
General Earle G. Wheeler, U.S. Army, became the senior military advisor to President Lyndon Johnson in 1964 and continued in this capacity under President Richard Nixon. In disgust with their administrations' disastrous Vietnam War policies, Wheeler shredded his memoirs. He died three years later. In consequence, the biography of one of the most important figures of the Vietnam Era has remained inaccessible — until now.
The companion volume to this book, Determined to Persist: General Earle Wheeler, the Joint Chiefs of Staff, and the Military's Foiled Pursuit of Victory in Vietnam, explores Wheeler's contributions to national security policymaking and civilian-military relations during an extraordinary six-year period marked by America's growing involvement in the Vietnam War, its zenith, and the beginning of U.S. disengagement.
General & Mrs. Earle Wheeler complements that volume by tracing Wheeler's exceptional, 46-year military career against the backdrop of growing American involvement in Southeast Asia. Based on exclusive, contemporaneous correspondence, official records, interviews, and memoirs, it also highlights the unheralded, yet vital roles played by military spouses and reveals the challenges of military family life. $1.99 on Kindle.