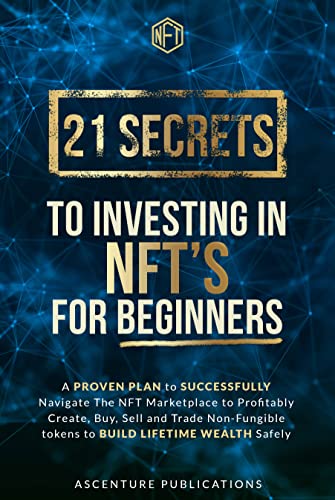 The NFT investment train has just left the station, and it's already running faster than Bitcoin's!
Taking this opportunity on the fly could lead you to discover a digital goldmine, and we're about to reveal to you how to become a pioneer in this new industry.
In a very short time, NFT Investing has become the main topic on everyone's lips and has managed to divide the world between skeptics who believe it's just a temporary fad and the forward-thinking who see it as an even bigger opportunity than cryptocurrencies.
Only time will give us the definitive answer, but the certain thing is that, currently, those who know how to operate correctly in this world are entering the circle of the new rich.
Another fact not to be underestimated is that all the biggest and wealthiest companies in the world are investing billions of dollars to ensure their presence in this new digital world.
Through the pages of this book, we are going to disclose every secret and knowledge about this virtual world, explaining things in a way that can be easily understood by anyone, to make sure everyone has all the necessary basics to invest profitably and reduce the possible risks!
Here is what you will find in this guide:
How to join the 1% of the world's population that has figured out that NFTs have more potential than Bitcoin had in its early days,
The easiest way to "hack" an NFT project — You'll be able to instantly and confidently figure out which one will blow up and which one will fall into oblivion,
All the secrets that those who have already made millions of dollars with NFTs don't want you to know — Investment strategies that will change your life in a matter of seconds,
Want to create your own NFT project? You need to know that 98% FAIL, but don't worry — We know how to get you into the other 2% and send your project to the moon,