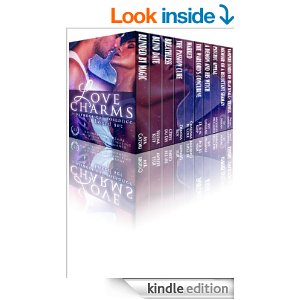 Get charmed by a bad boy…
He might be a god of passion or a hot barbarian warlord. He could be an Enchanter who mesmerizes you or a dark vampire luring you into a passionate encounter. But he's your hero, your demon, the man who takes you to a world of wicked pleasure.
So HOT your fingers will sizzle – TEN alpha males, over 2,700 pages!
Escape into the world of paranormal romance with smoking hot heroes and a passionate journey featuring wicked demons, wanton witches, sexy vampires, dark warlords, edgy warlocks, lost souls and more!
A Demon and His Witch – Eve Langlais: Remy's seen a lot during his tenure in Lucifer's guard, but nothing can prepare him for the witch with the acerbic tongue and VOLUPTUOUS figure. Can he convince her to love him and not kill him?
Psychic Appeal – Michelle McCleod: Psychic Sofia Parker has fallen in LOVE, a problem because her new relationship drives the lovesick ghost of her ex-boyfriend to come back from the dead…anyway he can.
The Passion Cure – Deanna Roy: Jet is a Nix, an outcast enchantress with zero power. To conjure a love spell to save her family, she SEDUCES a handsome enchanter who is willing to break the rules, and possibly, her heart.
Blind Date – Selena Kitt: Annie meets Eric under strange circumstances, and then, things just get stranger. A HOT take on the Greek myth of Eros and Psyche.
Blinded by Magic – Ava Catori: Raven's weakness is mortal men. She's FALLEN HARD for Derek. There's just one problem, he doesn't know she's a witch. Can he accept her truth or will their relationship crumble?
Breathless – Cerys du Lys: Sadie and Evan live in different worlds. Brought together by FATE, and held there by hope, can they bridge the gap dividing humanity, or will long held fears and prejudice force them apart forever?
Marked – Charisma M. Cole: Jade Murray is a witch that can communicate with the dead. After a summoning goes awry, two murders rock the human and SUPERNATURAL world. One thing connects the gruesome acts: Jade.
The Warlord's Concubine – J.E. & M. Keep: As a servant to the princess for much of her life, Mirella sees the CONQUEST of the land as an opportunity to elevate herself.
Memoir of a Reluctant Shaman – Ty Nolan: When his LOVE SPELL goes wrong, our hero is exiled to be fully initiated as a Shaman in this spicy tale of New Orleans Voodoo and Native American magic.
Vampire Lords of Blacknall – Shirl Anders: Only a creature of the night can save her. Lady Beth Winslow never stays home at night. She fears her stepbrother. Then a monster stalks her in the dark woods and she cannot tell beast fromSAVIOR.