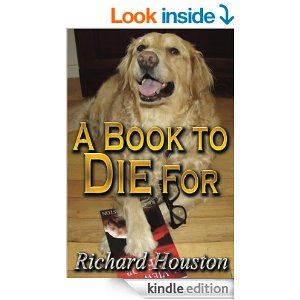 For fans of David Rosenfelt, Dean Koontz, Agatha Christie and Lawrence Block's Burglar Books.From the author of the Number One Cozy Mystery, A View to Die For, comes A Book to Die For, a mystery that will keep you guessing until the very end.
Jake Martin is not your ordinary sleuth. He's an ordinary guy with an extraordinary dog. This time the story takes place in the foothills of Denver. Jake is accused of manslaughter and he has to prove the accident was really murder. Along the way he encounters a poaching ring and falls in love with a beautiful game warden. The characters are memorable and the plot is multi-layered. It keeps the reader guessing who dun-it until the very end.
"Richard Houston is an author who understands the keys to unlocking a reader's interest from page one… Now, retired, he lives in Missouri where he has built a home by the water and writes books – his first outing being the Jacob Martin mystery series, of which this is the second installment (of what one hopes will be a continuing saga!)… This book, A BOOK TO DIE FOR takes up where A VIEW TO DIE FOR left off – the characters of Jake and his loyal dog Fred are on a new mission…" By Grady Harp HALL OF FAME TOP 50 REVIEWER
"I reviewed the author's first mystery and found it a fresh take on the genre with much wry humor. The current one is a welcome follow up. It has one of those incredibly complex plots that had me scratching my head, and a large cast of supporting characters that I had to make notes to keep track of. The main character is Jake Martin, a divorced, unemployed software engineer and writer who is down on his luck, chronically short of money, drives an old car, and lives in a cabin in Colorado with a dog named Fred. Fred is amazing, but more about him later…" By Henry Simpson, Author of the Joe Costa Mysteries.
"Richard Houston has woven a fantastic tale full of mystery, love, deception, and of course- suspense. His style reminds me of the old detective novels I was addicted to as a youngster, the only difference being that in Houston's book, I didn't solve the mystery; I had to wait for the big reveal…" —By Heather S