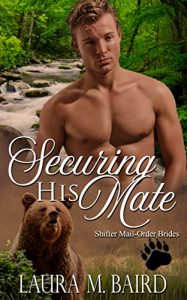 A vow to his ailing mother gives Grizzly shifter, Micah, six months to
find his mate, or he and his brothers lose their family's land. He can't contemplate a lifelong bond, but one tease of Nicolette's enticing scent has him and his bear ready to do what it takes to make her his. Nicolette and her sister are all each other have in the world so she protects their existence by living a sedate life. A chance encounter with the charming Micah has her rethinking her decisions. But how will she view him when she learns he's a shifter and her only experience with that world led to heartache? Micah offers love and security, but can he convince her their bond is meant to be?
He's reluctant to face his destiny. She's protected herself from more heartache. Their bond will prove fate doesn't make mistakes.
This standalone novella is part of a multi-author steamy paranormal romance series about five Grizzly bear shifter brothers and the women they fall in love with. $0.99 on Kindle