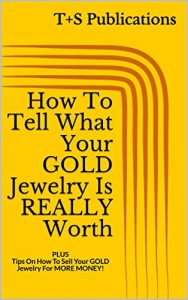 Are you considering SELLING your GOLD Jewelry? Or maybe you just want to know what your GOLD Jewelry is REALLY worth? In this guide, you'll learn:
HOW to figure out the VALUE of your GOLD Jewelry AND get some GREAT TIPS on SELLING your GOLD Jewelry for MORE MONEY!
Inside, you'll find a clear and easy to understand GUIDE and GOLD Chart with an EXAMPLE to follow along with so you'll KNOW how it's done!
This information can help you over and over again, a VALUABLE and informative resource about GOLD Jewelry at your fingertips! $0.99 on Kindle.