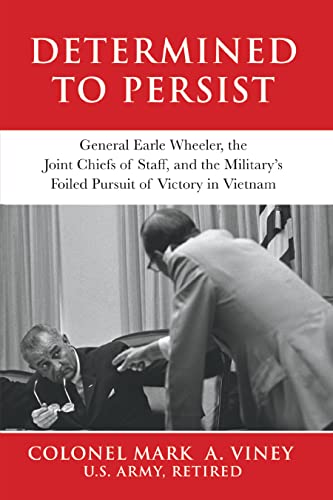 Determined to Persist takes readers inside the White House, the Pentagon, and U.S. military headquarters in Hawaii and South Vietnam. Based on exclusive contemporaneous correspondence, recently declassified top-secret documents, interviews with participants, and their memoirs, this book traces the internal debates, tensions, and critical inflection points of the Vietnam War during an extraordinary six-year period.
The longest serving Chairman of the Joint Chiefs of Staff, General Earle G. Wheeler was the senior military advisor to Presidents Lyndon Johnson and Richard Nixon. In disgust with their administrations' disastrous Vietnam War policies, Wheeler shredded his memoirs. He died three years later. In consequence, a gaping hole has existed in the historiography of the Vietnam War – until now.
Determined to Persist overturns long-held, inaccurate perceptions of civilian-military relations during the Vietnam Era and provides a fuller, more accurate representation of the Joint Chiefs of Staff's role in the Vietnam War.
The prequel to this book, General & Mrs. Earle Wheeler, Their Rise to Chairman of the Joint Chiefs of Staff Amid America's Descent Into Vietnam, traces Wheeler's exceptional, 46-year military career against the backdrop of growing U.S. involvement in Southeast Asia. $5.99 on Kindle.