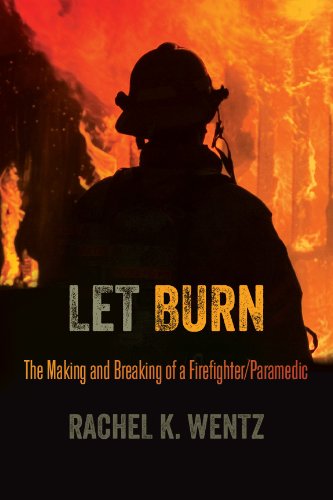 WINNER OF THE 2014 FLORIDA AUTHORS AND PUBLISHERS ASSOCIATION SILVER MEDAL PRESIDENT'S AWARD IN MEMOIRS
In 1985, desiring a meaningful, high-paced career in public service, Rachel Wentz left her university studies to become a firefighter/paramedic. Only the eighth woman hired by the Orlando Fire Department, a highly competitive department steeped in tradition, Wentz excelled, completing an AS in Fire Science, a master's in public administration, and numerous specialized training courses to prepare her for an administrative position within the department.
Wentz spent eleven years with OFD, experiencing a career that was every bit as exciting and challenging as she had sought. A moving, candid, and eloquent memoir, Let Burn recounts her experiences as a firefighter/paramedic, during which time she witnessed aspects of life and death few people are privy to, experiences that shaped her as a professional and as a person. From the rigorous demands of training to the extraordinary calls Wentz responded to, Let Burn details the gratifying aspects of the field, but also demonstrates the precarious nature of the job: a heated altercation at the scene of an industrial fire leads to Wentz losing almost everything she's worked for and the dramatic end of a storied career.
In vivid detail, Let Burn provides a firsthand glimpse into the hidden world of firefighting and emergency medicine. $9.99 on Kindle.