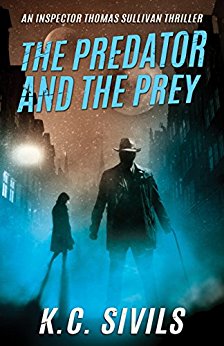 Everyone has a past they'd like to forget. Inspector Thomas Sullivan has a past that is about to catch up with him.
Sent to the developing planet Beta Prime to clean up its corruption and crime, Sullivan is saddled with a wet behind the ears rookie detective for a partner. An already difficult job is made more so by the haunting presences of a mysterious young woman.
A crazed serial killer and the theft of life-saving drugs are just the start of Sullivan's troubles. Betrayal by his own police force just might finish him off.
Faced with solving multiple crimes at once to save himself, who can Sullivan trust in his new home, the eternally cold Capital City?
Desperate for redemption for mistakes in his past, can Sullivan even trust himself?
The debut novel from K.C. Sivils, The Predator and The Prey is a crime thriller set in the gritty urban setting of Capital City 200 years in the future. Fans of cross-genre storytelling such as Joss Wheadon's space westerns and Alex P. Berg's Urban Fantasy/Crime noir stories should enjoy the adventures of Inspector Thomas Sullivan as he seeks to deliver justice to the innocent citizens of Capital City and the planet Beta Prime. $0.99 on Kindle.