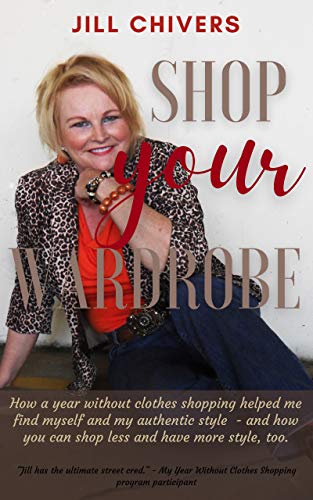 For any woman who has ever stood in front of a full wardrobe and lamented she has "nothing to wear", the idea that you can shop too much isn't too much of a stretch.
Jill Chivers' personal challenge to have a year without clothes shopping changed her life. She was shopping too much for things she didn't need and sometimes didn't even want, adding and adding to an already full and glorious walk-in wardrobe. She had no idea what was driving her overshopping, and knew she needed to find out before all that shopping bankrupted her joy in life.
Jill spent a year 'shopping her wardrobe' and discovered that shopping is not "just shopping" – it comes loaded with emotion, with manipulation, with baggage. Jill's 'year' changed her, and a decade down the track, she is no longer gripped by a compulsion to overshop; how she shops now has radically changed since she completed the challenge.
This book is part memoir and part how to. In Jill's conversational style, the first part of this book chronicles Jill's 'year' and gives you a glimpse into what prompted her deep burning desire for change. Jill explores concepts of style (and how it differs radically from fashion), about consumption, and about the environment in which we shop and how it influences and manipulates us, so often without our being conscious of it.
The final two chapters are dedicated to how you can shop less and have more style:
• Why you might consider taking a shopping hiatus –and what will help and hinder you if you do
• Five upsides to taking a break from all that shopping
• How to shop (yep, even seasoned shoppers can make costly mistakes)
• Nine strategies for online shopping
• How to create a nourishing wardrobe (and stop buying fast fashion)
• Ways to become a more conscious clothes shopper
• How you can create your own wonderful, working wardrobe
Combines Jill's captivating story with practical how to's. $0.99 on Kindle