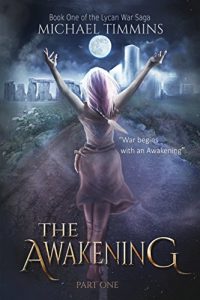 Werewolves, tigers and bears, oh my!
The world is awakening: Primeval powers. Druid sorcery. In the final battle for humanity, will four outcast shifters turn savior… or executioner?
Clint never fit in with the other orphans. And now that he's living on his own, his recurrent blackouts and blood-soaked clothes make him wonder if he can stand to face the truth of his mysterious origins.
Kat always knew she was destined to fight. When ancient spells unleash warring Druid priestesses, she thought she'd be ready to take up the battle cry. But not even a lifetime of training could prepare her for the beast clawing its way out…
Blain delights in making his enemies bleed. So, when the London gangster discovers he can shift into a monster worthy of his darkest appetites, he won't stop until he's had his fill.
Before her strange new powers stirred, Shae's world was shrouded in pain. But it will only be a matter of time before she's strong enough to break her cruel captors' bonds—along with every bone in their bodies.
As ancient omens of war spread throughout every corner of the world, the descendants of fearsome were-soldiers must choose sides. Will Clint, Kat, Blain, and Shae defend civilization or condemn it to oblivion?
The Awakening is the first book in the captivating Lycan War Saga series of dark fantasies. If you like ancient magic, powerful adversaries, and new twists on lycanthropy, then you'll love Michael Timmins wholly original tale. Free on Kindle.