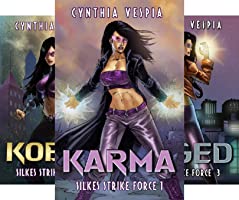 Discovering the hidden world of the superpowered would be great, if they weren't all trying to kill her.
Her father's death gave Silke Butters the powers to change the world. Unfortunately, he didn't leave her instructions on how to use them. As Silke learns more about her superhuman abilities, she uncovers the dangerous secret that comes with them.
She is the product of a government experiment gone wrong…and she's not the only one!
The revelation puts Silke in the cross-hairs of a terrorist group known as the Sin Squad, enhanced with powers of their own. Joining an elite strike force, Silke invents the alter-ego Karma to combat the dangerous threat.
Will Silke learn to control her powers as Karma? Or is being a superheroine more than she can handle?
A twist on the superhero story packed with powers, action, and character drama. $0.99 each on Kindle.