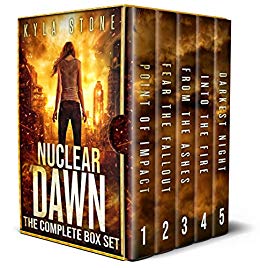 In a matter of seconds, terrorists detonate nuclear bombs in multiple American cities. Millions flee the destruction. Entire cities become hot zones as the fallout descends…
Tough Dakota and enigmatic Logan are trapped in downtown Miami. As utter chaos erupts, they have minutes to find shelter before the lethal radiation hits them.
But Dakota can't flee the radioactive ruins of the city—not without her sister. Surviving the blast is only the beginning…
Binge read the acclaimed post-apocalyptic series now! $0.99 on Kindle.
[shareaholic app="share_buttons" id="4690042"]