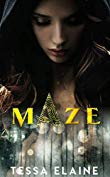 After losing just about everything she knows, Mia Taylor decides she has nothing to lose by starting over. Going out into the world with no life experience is maybe not the best idea. Over Halloween weekend, a night out at a corn maze with friends turns into a nightmare when they abandon her.
It seems hopeless until a mysterious man comes out of nowhere to save the day.
Ethan Reed has sacrificed everything to be a good doctor. He works long hours to save lives even as he dreams of building his own life–a family and a private practice is all he really wants. Needing a break, he heads out to his family's property for a weekend away. And the last thing he expects to find out on his land is a girl who needs saving.
Can Mia risk letting this mystery man into her life–a man who makes her feel things she has never felt before?
Can Ethan convince this lost girl that she is just what he has been looking for?
Two people from two different worlds might have found their dream in the middle of a nightmare.
Warning: This book contains content that may trigger PTSD. Please read at your own risk. $0.99 on Kindle.