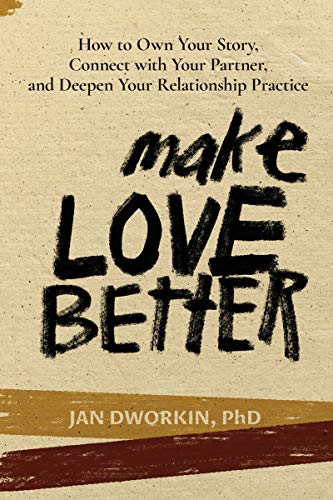 Let's face it, relationships are hard.
If you're like many people, your relationship resume reads something like a spatter pattern. Confusing experiences lie in your wake, and you can't decipher the learning. Maybe your relationship is littered with messy conflicts or scorched by the ills of the world. Maybe you are lonely–and looking for a partner, or you feel you just aren't any good at relationships–and you want to get better.
Using stories from her own colorful relationship life and from her work with clients from diverse backgrounds around the world, Jan Dworkin, PhD, lays bare her missteps and triumphs both in and out of the bedroom with honesty, humor, and depth. She offers concrete tools to help couples navigate power dynamics and conflicts that arise from differences in gender, class, race, sexual desire, communication styles, dreams and opposing points of view. Through sassy stories, step-by-step exercises, and hard-earned wisdom, Dworkin guides readers to build their very own "relationship practice."
Whether you are embarking on a new relationship, striving to improve an existing one, or recouping after a breakup, prepare yourself to laugh, cry, and gain the education of a lifetime. This is the real world of relationships with no holds barred. $2.99 on Kindle.