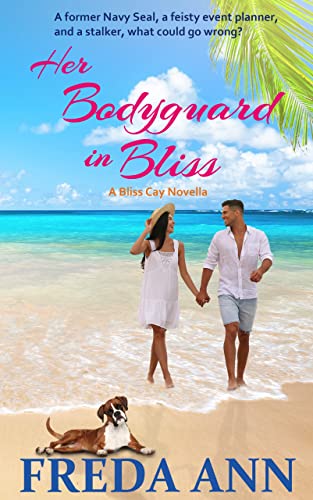 Chance McNally is a former Navy Seal and a hot-headed Irishman who's at the end of his rope trying to balance a new job while raising a difficult teenage daughter alone.
Along comes Riley Cole, a feisty event planner running a successful business, whose carefully curated life is changed by the constant threat of a dangerous stalker. Afraid for her life, she hires the best bodyguard in Bliss Cay…who happens to be Chance.
With Chance assigned to protect Riley, he must assume the role of her boyfriend in order to keep her safe from danger at all times—a feat easier said than done. When the two are together they're oil and water, leading to explosive situations as they are forced to tolerate each other's presence.
With Riley's world turned upside down over the ever-constant threat of danger, the safety this fake relationship offers is something she realizes she's been missing in her life. For Chance, Riley may be the spark of fire he needs to finally heal from past traumas.
Will the one person Chance never wanted in his life be the one to persuade him to face a tortured past, and will this relationship stay fiction—or can their growing feelings turn it into fact?
(This is book 5 of a standalone (clean) Hallmark style series and can be read in any order.) $0.99 on Kindle.