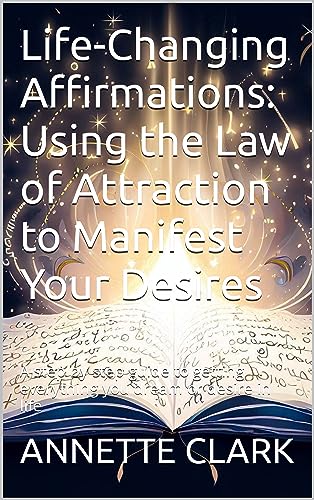 "Life-Changing Affirmations" provides an empowering and holistic guide to harnessing one's internal energies. This book integrates the principles of the Law of Attraction and the transformative power of affirmations, teaching readers how to reshape their destinies, manifesting not just material gains but also personal growth and self-realization.
In an age of overwhelming external pressures, "Life-Changing Affirmations" serves as an empowering guide to harnessing our own internal energies. Through the principles of the Law of Attraction, this book offers readers an avenue to reshape their destinies, manifesting not just material gains but holistic personal growth.
Starting with a foundational understanding of affirmations, the book dives deep into the psychological and neurological mechanisms that make these powerful statements truly transformative. By addressing common doubts and misconceptions, it provides clarity, ensuring that readers navigate their affirmation journey with informed confidence.
Taking readers on a step-by-step voyage, the book covers crafting personalized affirmations, delving into the intricacies of verbalization, visualization, and emotional resonance. Beyond the individual, it provides insights into collective energy and the role of communal affirmation practices, emphasizing the universal interconnectedness in our manifestation journeys.
Deepening the exploration, it merges the principles of affirmations with spiritual laws and insights, aligning the practice with universal energies and greater cosmic patterns. This interplay between the individual and the universe reveals a dance of energy, frequency, and intention.
However, no journey is without its challenges. This guide anticipates potential pitfalls and misconceptions, offering tools and strategies to overcome them. From maintaining consistency to navigating skepticism, readers are equipped to handle any curveballs on their path.
The appendices act as a treasure trove of additional resources. With comprehensive directories, journaling templates, digital tool recommendations, meditation scripts, and more, the book ensures that readers are well-supported long after their initial read.
"Life-Changing Affirmations" is more than just a guide; it's an invitation. An invitation to transform one's life from the inside out, to harness the limitless potential within, and to co-create with the universe. This is a journey of self-discovery, empowerment, and profound transformation, one affirmation at a time.
Free on Kindle.